Poinciana Library
101 N Doverplum Ave
Kissimmee, FL 34758
Monday – Thursday: 9am – 9pm
Friday – Saturday: 9am – 6pm
Sunday: 12pm – 6pm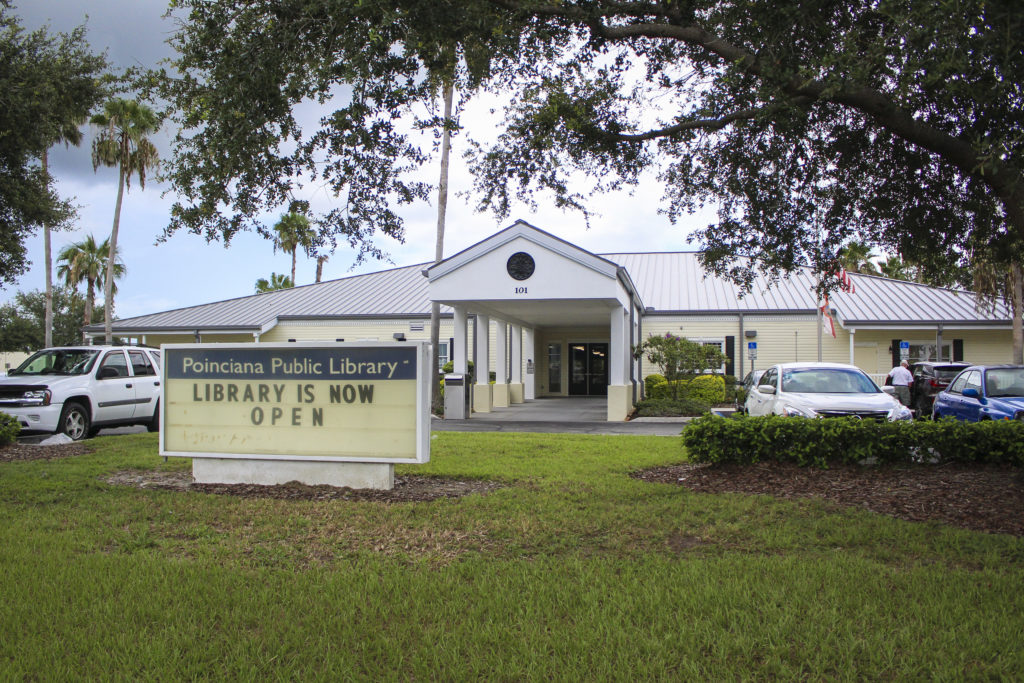 The Poinciana Branch Library is located in southwestern Osceola County near the Polk County border.
---
Rooms Available at Poinciana Library
Poinciana Library Multipurpose Room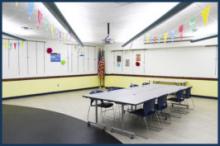 30 ft. x 30 ft.
Includes overhead projector with VGA port, DVD player, tables, and chairs
Occupancy: 60
Patrons must bring their own computer cables and supplies
Upcoming Events at Poinciana
Poinciana Chess Club
Test your skills, learn new strategies, and meet fellow chess enthusiasts while playing the most popular game in the world! You don't have to be an expert; it's never too late to learn. All ages and skill levels are welcome.
Poinciana Library
Sunday, May 19th
1:00 PM

to

2:00 PM
Learn 2 Read
Help your child develop an early love for reading. This is an interactive experience providing how-to techniques for parents and non-school age children (infants/toddlers). Presented by The Parent Involvement Team of the Osceola County School District.
Poinciana Library
Monday, May 20th
10:00 AM

to

11:00 AM
2019 Special Election
A special election for Osceola County voters will be held on Tuesday, May 21, 2019 to decide a single ballot question:
Should transportation facilities and services be funded throughout Osceola County, including projects that improve roads and bridges, expand public transit options, fix potholes, enhance bus services, relieve rush hour bottlenecks, improve intersections, and make walking and biking safer by levying a one-cent sales surtax for 30 years?
Find out everything you need to know about this ballot question including what all it affects, what exactly you would be voting on, why a one-cent surtax is proposed, how the money is raised and spent, how you can early vote or vote by mail, and more by visiting Osceola County's website:
https://www.osceola.org/one-cent-surtax-for-transportation/?
Poinciana Library
Tuesday, May 21st
7:00 AM

to

7:00 PM
Friends of the Library Meeting
Make great things happen; support the community by becoming a member of the Poinciana Friends of the Library! Since 1998, the Friends have proudly supported the Poinciana Branch Library. They are continually striving to expand and improve Library services, facilities, and programs via volunteering and financial support generated from Book Sales, Bag Sales, Bake Sales, and endowments/ bequests. Yearly dues start at $5.00 with larger donations gladly accepted.
Poinciana Library
Tuesday, May 21st
11:30 AM

to

12:30 PM
Rhythm, Rhyme, & Storytime
Sing, swing and sway your way through this program dedicated to music and movement!
Rhythm, Rhyme & Toddlertime is an early learning program that combines singing with a wide variety of musical instruments to learn, share and explore. Attendees will be taught finger plays, rhythm movement, dancing, and free play. This creates the perfect opportunity for fun-filled learning as you watch your child develop their vocabulary, counting skills, creative thinking, and listening skills. Recommended age 2-5 years old
Poinciana Library
Tuesday, May 21st
1:00 PM

to

1:30 PM
Great Beginnings Storytime
Encourage your child's love of reading with great books and enrichment activities that build early literacy skills.  Age: 18 months-5 yrs.
Poinciana Library
Wednesday, May 22nd
10:00 AM

to

10:30 AM
Microsoft PowerPoint Parte 2
Personalice sus presentaciones familiarizándose con las transiciones, animaciones, temas, moviendo/duplicando/borrando las diapositivas, añadiendo cajas de texto y más.
Poinciana Library
Thursday, May 23rd
10:00 AM

to

11:00 AM
Rhythm, Rhyme, & Storytime
Sing, swing and sway your way through this program dedicated to music and movement!
Rhythm, Rhyme & Toddlertime is an early learning program that combines singing with a wide variety of musical instruments to learn, share and explore. Attendees will be taught finger plays, rhythm movement, dancing, and free play. This creates the perfect opportunity for fun-filled learning as you watch your child develop their vocabulary, counting skills, creative thinking, and listening skills. Recommended age 2-5 years old
Poinciana Library
Thursday, May 23rd
10:00 AM

to

10:30 AM