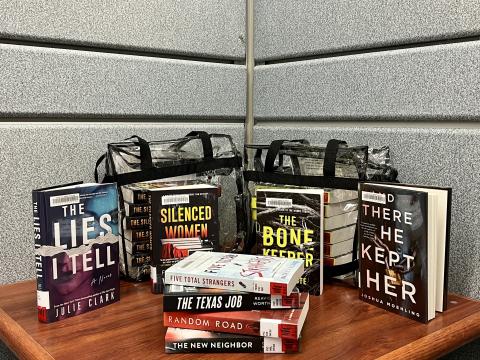 Grab a book club kit for you and your friends!
Who doesn't love the chance to read a great book and spend time with friends? The Library's new book club kits will help you do just that! With eight exciting titles in kits you can pick up at most branches, you're sure to find something you and your friends will love. 
Kits will be in clear tote bags containing 8 copies of the book and discussion questions. You'll also find exciting author talks available on YouTube for you and your friends to enjoy. Locate the title and link below. Most titles are available but check back soon for more.
​Hart Memorial Library 
The New Neighbor by Carter Wilson
Random Road by Thomas Kies (Author Talk)
Five Total Strangers by Natalie D. Richards (Author Talk)
St. Cloud Library
The Lies I Tell by Julie Clark
The Bone Keeper by Luca Veste (Author Talk)
West Osceola Library 
Buenaventura Lakes Library 
And There He Kept Her by Joshua 

Moehling 
Kits can be found at these branches or placed on hold through our catalog for pick-up at your preferred branch. When checking out a kit, be sure to scan the barcode on the bag and all 8 books inside, then return them as a group.