Materials expertly selected by your local Librarians ready to grab and go!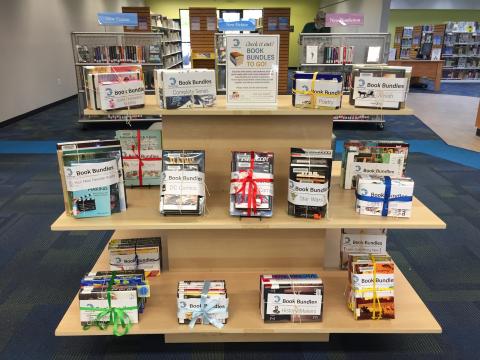 Book Bundles are small collections of books, DVDs, and/or books on CD that share the same theme, genre, writing style, or author, etc., and are grouped for easy checkout. Each branch will have Book Bundles available for all ages! 
Here are just a few of the kinds of Book Bundles you will find:
For Kids

ABCs

Colors

Princesses

Dinosaurs

STEAM

For Adults or Teens

Staff Picks

Thriller

Romance

Books and Movies combos (the book with its movie adaptation)

Staycation (cozy fiction, cooking, baking, knitting, etc.)
Book Bundles will be updated and changed out frequently, so there will always be something new to enjoy. And to help families with their goals of promoting early literacy in their children, Kids Book Bundles will be available in two ways. In conjunction with our 1000 Books Before Kindergarten Beanstack Challenge, Kids Book Bundles can be picked up in person at our Libraries or placed on hold through our online catalog or Personal Shopper service, making it easier to tackle the Challenge! These Bundles hold a variety of assorted titles based on reading level to help further your child's efforts to meet their goal to read 1000 books. Learn more about the 1000 Books Before Kindergarten Beanstack Challenge and how to get started with Beanstack to get ready to log your child's progress!
How to place a hold on a Kids Book Bundle:
Go to our online catalog and search for "Book Bundle"

Find the Bundle you are interested in

Each Bundle listing will have a description that states how many items are in the bundle and specify age group where applicable. You can also find this information by clicking on the "Full Display" button.

Click "Place Request"

Log in with your Library card number (all 13 digits) and your PIN. (Call the Library at 407.742.8888 for assistance if you forgot your PIN.)

Select which Osceola Library branch you would like to pick up your hold.

Click "Submit Request."
You will be notified when your holds are ready for pickup at your chosen Library branch. For your convenience, Curbside Pickup is available at all branches. When a Book Bundle is checked out, each of the items in the bundle will show on your account. 
Book Bundles are also available through our Personal Shopper service.