Host Your Own Book Club with Friends!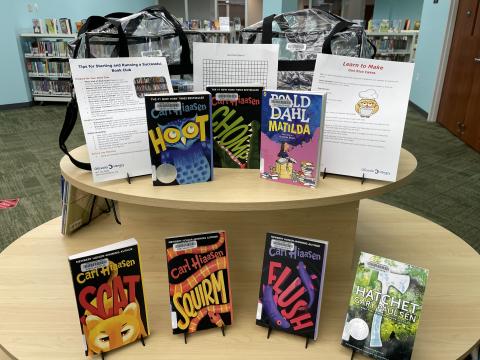 Start your very own book club with friends! The Library has seven exciting titles in kits that you can pick up at any of our branches. These kits will be in clear tote bags containing:
10 copies of the book

Discussion questions

Suggested activities

Author biography
                                      ​Hart Memorial Library         St. Cloud Library             ​   Poinciana Library
                         Hoot by Carl Hiaasen           Chomp by Carl Hiaasen     Squirm by Carl Hiaasen 
                         Matilda by Roald Dahl          Scat by Carl Hiaasen
                                    ​​Buenaventura Lakes Library      ​​West Osceola Library
                                    Hatchet by Gary Paulsen                Flush by Carl Hiaasen
Kits can be found at these branches or placed on hold through our catalog for pick-up at your preferred branch. When checking out a kit, be sure to scan the barcode on the bag and all 10 books inside, then return them as a group.