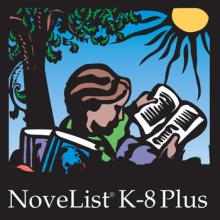 Looking for more great books to read?
NoveList K-8 Plus is especially for younger readers in grades K-8 and provides fiction and nonfiction book recommendations by subject, author, reading level, and special topics like Books to Movies.
Learn more about books and authors through Feature Articles, Book Discussion Guides, and BookTalks. NoveList K-8 Plus includes picture books, children's "chapter" books, and children's and younger teen titles. 
Looking for hot, trending books? Check out the many reading lists offered by NoveList K-8 Plus. Top ten, best of, favorites—hundreds of reading lists make it easy to quickly find great books to read and recommend.
Ready to try NoveList K-8 Plus?? Let's get started!
To access NoveList K-8 Plus from home or on the go, all you need to do is click on the link above and enter your library card number.