Enjoy the fun of reading and unlock achievements!
Beanstack is a website and app that serves as an interactive home for reading challenges and events. It's your one-stop-shop to not only register for challenges, but to also track your reading habits and unlock badges!
Beanstack is easy to use and available both online and as a mobile app. Get started by downloading the app or by visiting our Osceola Library Beanstack website at osceolalibrary.beanstack.org to create your account.
What can you do with Beanstack?
Register as an Individual, Family, Group, or Class
Perfect for parents, summer camps, and teachers!
Earn Badges, Incentives and Prizes
Get digital badges and achievements, as well as prizes for completing challenges!
Complete Reading Challenges
Choose from Youth or Adult Reading Challenges, all crafted by our Library staff.
Write Book Reviews
Share your opinions with other readers!
Track Your Reading
Easily add books to your reading log by scanning the book's barcode, and set session timers to track how long you've read!
Get Weekly Book Recommendations
(Optional - enable in Settings) Get unique recommendations based on your profile information and reading habits.
Manage a Family Member's Reading Log and Achievements
(if registered as a Family) Easily switch views between member profiles without having to change logins.
How To Sign Up
You do not need to have a Library Card or eCard to sign up for and use Beanstack. Everyone, even those without cards, can register and participate in challenges!
Visit osceolalibrary.beanstack.org or download the app to your phone or tablet. If you are registering through the app, select "Library, School or Bookstore" and search "Osceola Library System".
Choose how you would like to register (as an individual, registering a child, registering a family or group) and then complete all required fields (marked with *) in the online form.
Note: An email address is required. If you do not have an email address you will need to create one first then come back to register for Beanstack.
Once registered, you can access your account online or in the app by signing in with your username and password.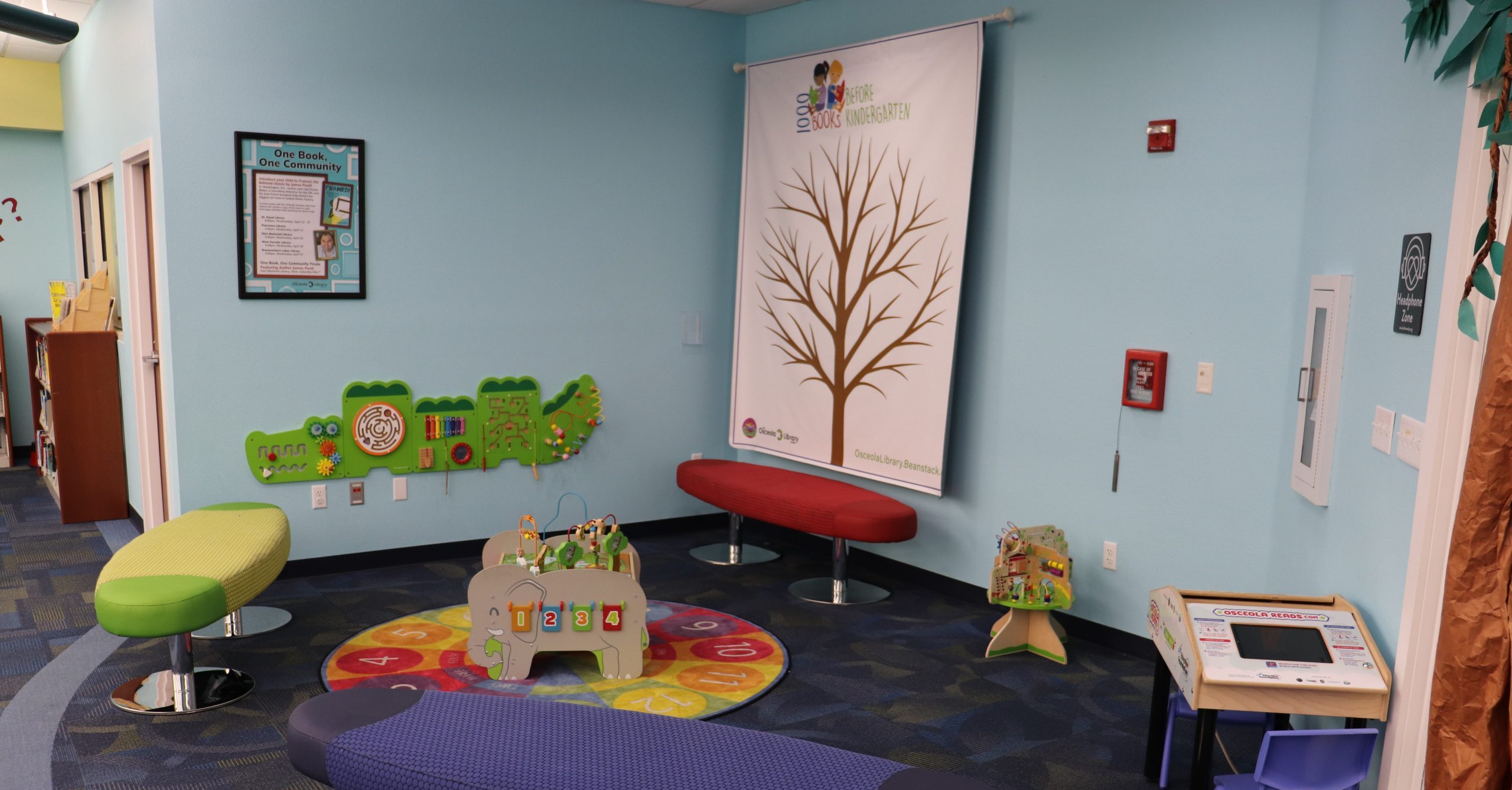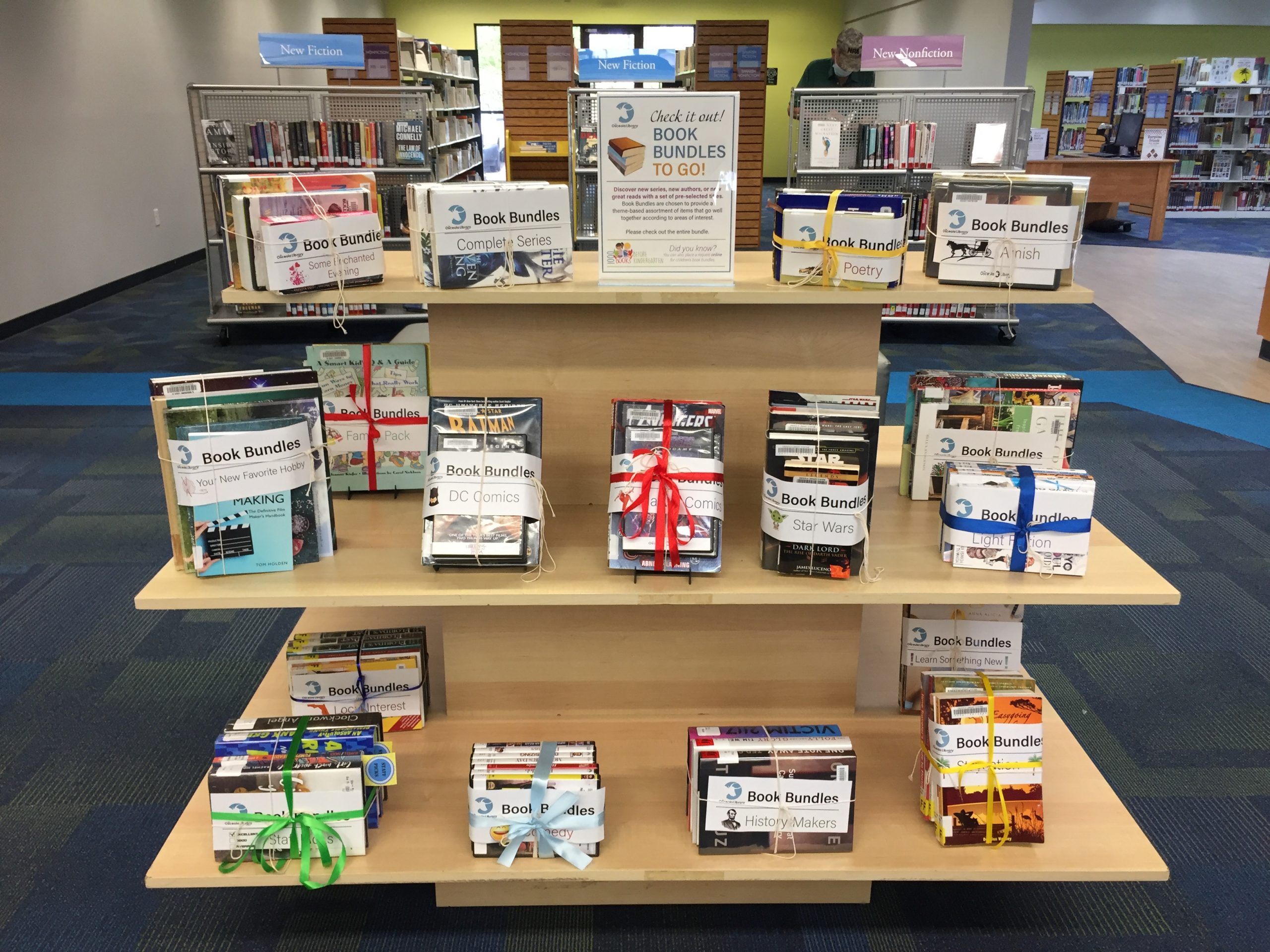 1000 Books Before Kindergarten
A Reading Challenge for You to Complete with Your Little Ones!
Can your child read 1,000 books before they start Kindergarten? It's easier than you think! Our new reading incentive program allows you to bond with your child(ren) ages birth - 5 years old while helping them establish strong early literacy skills by reading aloud.
Register for the challenge on Beanstack using the instructions above and track your child's progress in the app as you read books together. Earn rewards for different milestones as you go, and when your child reaches their goal of 1,000 books they can make their mark on our new 1000 Books Before Kindergarten banners at the Libraries by placing their handprint on our Trees of Literacy!
Book Bundles
In conjunction with our 1000 Books Before Kindergarten Beanstack Challenge, Kids Book Bundles can be picked up in person at our Libraries or placed on hold through our online catalog or Personal Shopper service, making it easier to tackle the Challenge! These Bundles hold a variety of assorted titles based on reading level to help further your child's efforts to meet their goal to read 1000 books.
How to place a hold on a Kids Book Bundle:
Go to our online catalog and search for "Book Bundle".
Find the Bundle you are interested in. Each Bundle listing will have a description that states how many items are in the bundle and specify age group where applicable. You can also find this information by clicking on the "Full Display" button.
Click "Place Request".
Log in with your Library card number (all 13 digits) and your PIN. (Call the Library at 407.742.8888 for assistance if you forgot your PIN.)
Select which Osceola Library branch you would like to pick up your hold.
Click "Submit Request."
You will be notified when your holds are ready for pickup at your chosen Library branch. For your convenience, Curbside Pickup is available at all branches. When a Book Bundle is checked out, each of the items in the bundle will show on your account.